The Ever-Popular Green Bean Casserole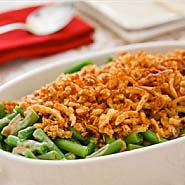 Green bean casserole is a dish consisting of green beans, cream of mushroom soup, and french-fried onions. The recipe may also call for ground black pepper and soy sauce. It is a popular Thanksgiving side dish and has become a classic recipe for Green Beans in the United States.
History of the Recipe
Green bean casserole, was created in 1955 by the Campbell Soup Company. Dorcas Reilly led the team that created the recipe while working as a staff member in the home economics department. The idea behind the dish was "to create a quick and easy recipe around two things most Americans always had on hand in the 1950s: green beans and Campbell's Cream of Mushroom Soup."
In 2002, Reilly presented the original recipe card to the National Inventors Hall of Fame in Akron, Ohio.